About Us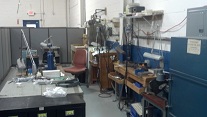 Ultimate Trading Corporation
Ultimate Trading was founded in 1985 as a jewelry importing company that specialized in sterling silver from Italy and Thailand. We quickly realized that to provide the best service and quality, we needed to control the entire manufacturing process from start to finish. In 1991 we opened up our own factory in Roseland, NJ and quickly became the premier casting and finishing house for sterling silver rings, earrings, and pendants. Seeing an opportunity, we added in gold and gemstones as a way to expand both our collection of styles and customer base.
Over the next ten years we grew steadily as did our quality. In 2001 we saw and untapped market for "fine" costume jewelry and began producing a line of brass and gemstone, CZ and crystal jewelry. Our buyers had trouble distinguishing between the real and the faux because it so accurately mimicked the look of real jewelry. After years of producing precious metal and gemstone jewelry, we had the experience and expertise to manufacture quality costume jewelry; the likes of which no one had seen before.
Today Ultimate Trading continues to domestically manufacture and import all types of jewelry and accessories. We are proud of what we have established and look forward to all of the challenges and accomplishments that lie ahead.